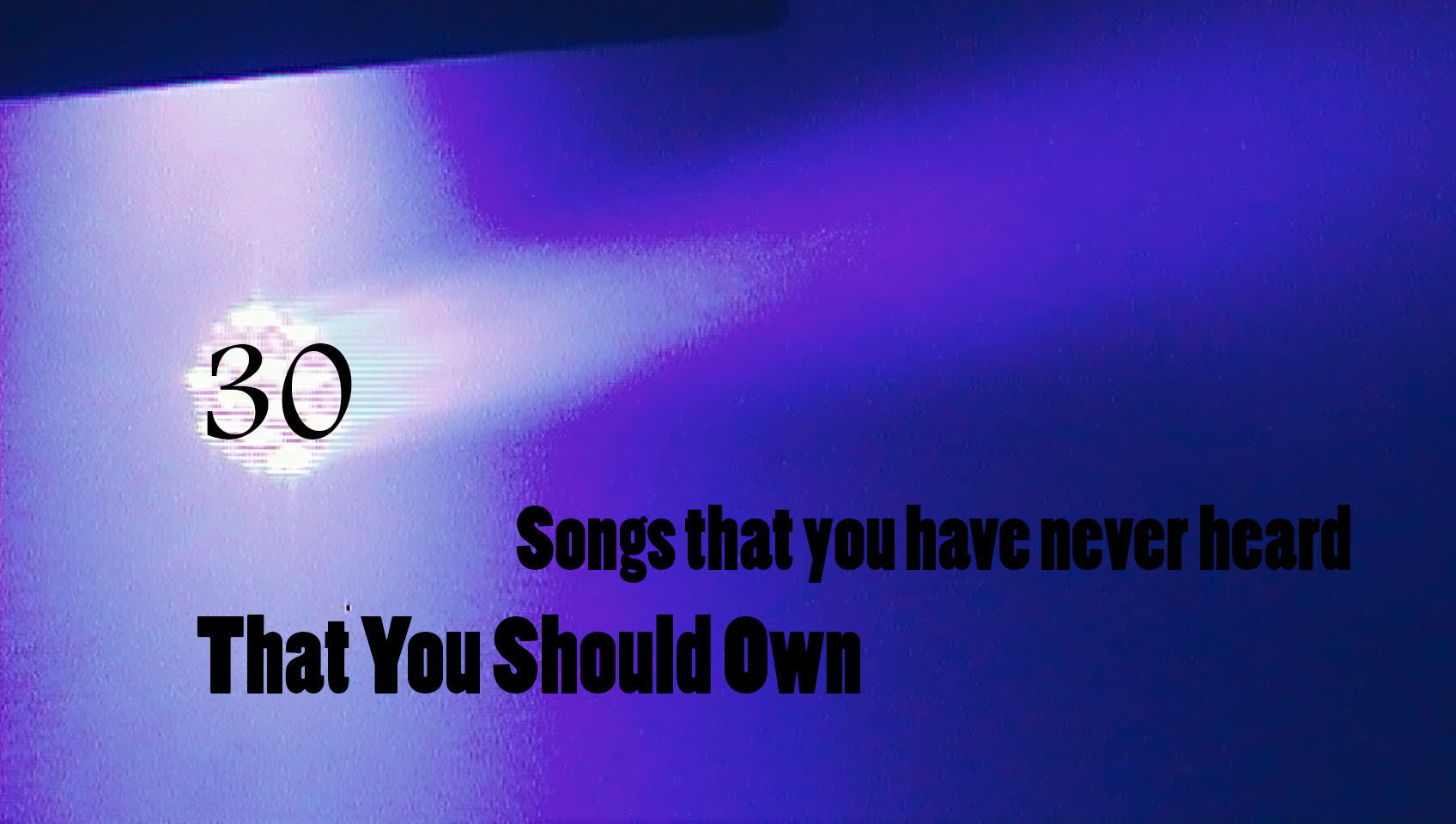 It's easy to get stuck in the same listening habits after a while. So I compiled a short list of songs I think are great and for the most part have gone un-noticed. Some of these songs date back to the early 90's, but most of the songs are from this decade. I'm a hoping a few of these songs will get you out of your listening rut. If you are indeed in one.
The Followers- Simple Song

Followers' self-titled album is an honest and contemplative worship experience that leans more on atmosphere than hooks. It's strength lies in the lyrical content, which includes a reworking of several forgotten hymns, as well as the bands deftly executed arrangements. The record is a memorable experience which may require several listens to catch all it's nuances -- but is well worth the effort. Also featuring former members of Rock and Roll Worship Circus, Ruth, Esterlyn, and Starfield.
Ecovillage- Blissfully Yours
Ecovillage
is the shoegaze outfit of
Emil Holmstrom
and

Peter Wikstrom
, who hail from Sverige, Sweden. With
Fragile
Wings We Reach The Sun
being their second full length release.
From the start, with fragile wings... is simply fantastic. There is
nothing that evens comes close to being considered filler.
full review
Stranger Kings- All Of Everything

In December of 2007, Eric Campuzano contacted Holly Nelson and John Hertzberg and the Orange County-based musical collective known as the 'Stranger Kings' was born. Our goal is simple: to be proactive about making the music we like with people we like. The sound: hard-edged camp-fire songs that rock your world in a unique way.
All Things Bright & Beautiful-

The Transfiguration, pt.1
This album came pretty much out of nowhere. Released last November on Northern Records with little ado. I finally heard about All Things Bright and Beautiful when looking at the bands on the schedule for this year's Cornerstone Festival. A couple mp3s on their webpage got me hooked and a few weeks later here I am reviewing the album.
full review
Theft-
Stars
Out of the Ashes of the 90's rock band
Driver Eight,
many years later
arose
Theft,
fronted by
Matt McCartie
. They have released an ep and two full lengths.
"The Hard Way"
being the latest effort. All of their albums are quite good. They should have a much bigger following. I'm hoping their self-belief will someday pay off.
full review
Pilgrim-
Only Your Presence
There's something liberating when you hear a song that moves you.
It's a sort of drug for some like myself. I am constantly on the search for music that hits me deep down inside. It's always a victory when I find an album like "Pilgrim." Pilgrim is Josh White formerly of Telecast and The Followers. He has moved into the genre of electro pop, with a product that is sure to be a great success.
full review
Zoo Seven-
Love Like Aerosol
Zoo Seven are a San Diego rock band fronted by Del Currie. Prior to forming Zoo Seven, the Irish-born Currie fronted the band Fono, who opened for the likes of Goo Goo Dolls, Tonic and Third Eye Blind. He also won Best Rock Song in the 2005 International Songwriting Contest. LIfesaver is Zoo Seven's debut album. full review
Eskimohunter-
Speed & Other Forces of Nature
ESKIMOHUNTER began in 2002 by Jason71 (lassie foundation, amnesia) as a marriage of good pop and the ever-blissful drone. Stressing a collected blanket of simple layered sound instead of complicated individual parts. The listener can hear a broad range of influences like the stacked harmonies of the Beach Boys, the symphonic electronics of ELO, and the shoegazer layered fuzz of My Bloody Valentine and Spiritualized. By weaving layered melodies with rhythm and sounds, Eskimohunter have crafted a unique brand of music. full review
Map- Lay Down The Law
Perhaps it's because talent fountains Richard Swift and Frank Lenz engineered/produced/mixed Secrets by the Highway, but this is a distinctively different Map than the one found on their last release. The "band" (which is really just guitarist/vocalist/leader Josh Dooley who, along with Swift and Lenz, often moonlights in Starflyer 59 full review
They Sang As They Slew-

Her Left Hand Rocks The Cradle
I must admit, when I got his cd, I had very high expectations. They sang as they slew (TSATS) if fronted by Jamey Bozeman, younger brother of Lee Bozeman (of cult hero luxury) . I loved luxury, and I hoped tsats would live up to that legacy. Upon first listen my response was "wow...sounds like the bands I remember from Atlanta
in the mid90's". Then I realized that's why I had such high
expectations, because that music was so good. ok, the cd. If you like
big guitars, minor keys, great vocals, and cool production, you need to get this.
full review