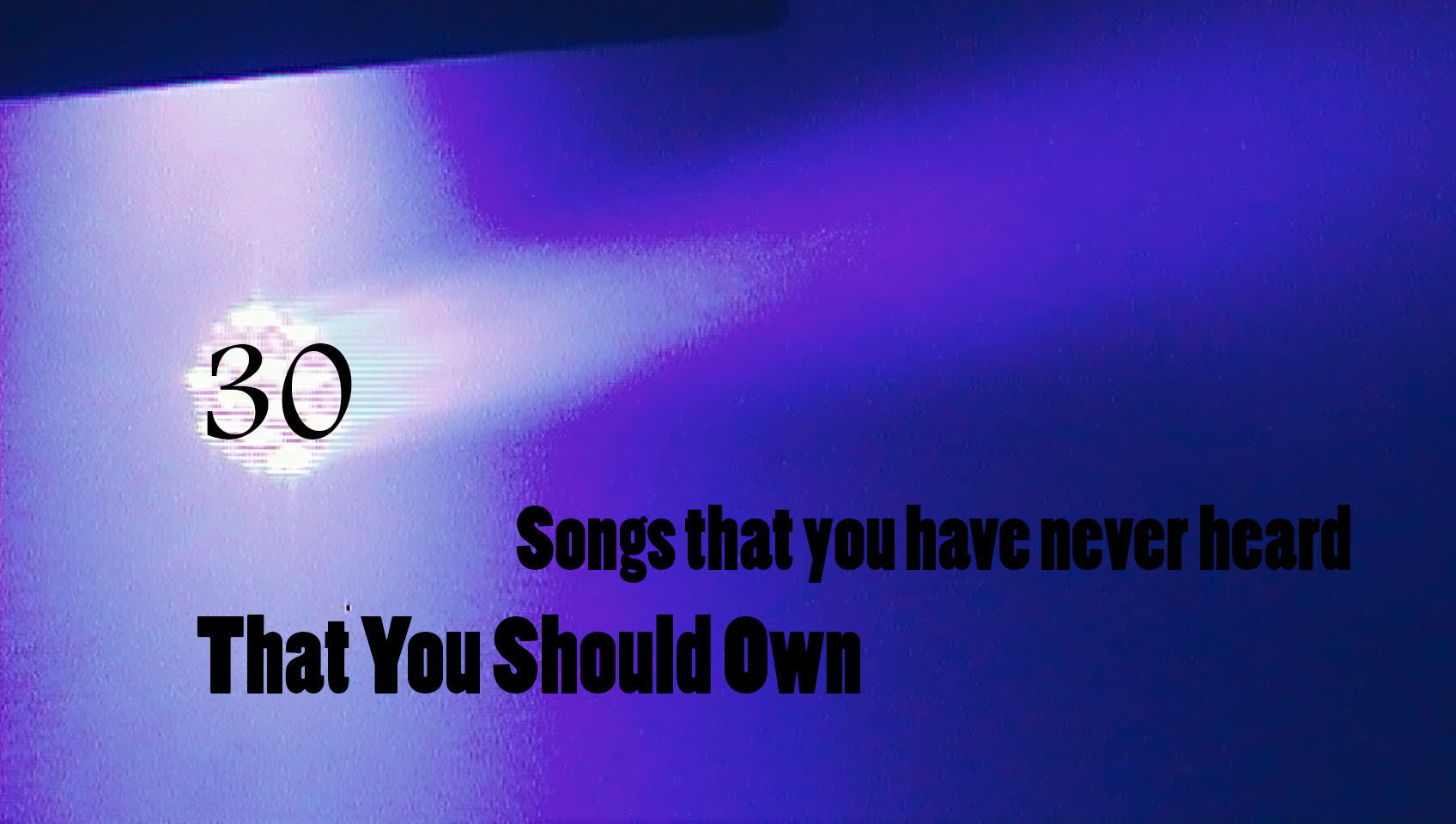 It's easy to get stuck in the same listening habits after a while. So I compiled a short list of songs I think are great and for the most part have gone un-noticed. Some of these songs date back to the early 90's, but most of the songs are from this decade. I'm a hoping a few of these songs will get you out of your listening rut. If you are indeed in one.
The Swayback- Just Like The Old Days

The rock trio The Swayback have mysterious sounding vocals from lead singer/bass guitarist Eric Halborg and eerie reverberating kinks along the glossy melodic channels delivering a dance rock make-up relatable to The Killers and the dark brooding hues of Editors.
full review
Three Fish- Laced
In 1996,
Jeff Ament
,
Robbi Rob
and
Richard Stuverud
, released three fish. One of pearl jams many side projects. This is a great album. It is a story of three fish, as the title implies. The album is lovely and mellow. The story is presented by spoken word backed by harmonious music. One fish was intelligent, another half-intelligent, and the third, stupid, it is the story of how they survived when a fisherman came to their lake.
full review
Seaweed- Start With

Seaweed's "Spanaway" is the type of album that keeps me awake at night. "Spanaway's" main message comes through loud and clear. We all deserve a break from the daily grind, and that break is found in nature. Songs like "Magic Mountainman", "Assistant (To the Manager)", and my favorite, "Last Humans", are thematic to a good ideal; the necessity of a natural experience that so many people lack. Enjoy the silence through the beautiful noise, and forget the other songs that don't belong.
Everything Is Energy- Hut
Everything is Energy turned out to be quite a nice surprise as I've
listened to their CD throughout the weekend, getting a good taste of it. Produced by Chris Shinn and Krisha Sharma at Henson Studios, Everything is Energy's self titled first effort is represented by indie label The Nest Records. Both the band and the label are out of Los Angeles.
full review
Born in the Flood- If This Thing Should Spill
Although Born in the Flood's debut full-length was one of the most hotly anticipated local discs in years, few expected the quartet to top the watermark it had already reached with
The Fear That We May Not Be
. The act had all but cemented its renown by delivering
full review
Popcult-
Already Gone
Once in a while, you come across a band that you just know has that special sound that could make it big if given the right amount of exposure.
Popcult
is one such band. This four piece crew is comprised of Justin Renaud, Tyler Venter, Alex Halvorson and Brandon Proff. Discreetly titled, 2011, this is the first EP for the group and they're offering it for free in exchange for an email address.
full review
April's Motel Room-
Dharma
April's Motel Room, the pride and joy of Simi Valley, have released their debut album in Black 14. With their focus on rock and metal and the strong songwriting of Tom Kelly, Black 14 is only a springboard to bigger things. full review
Sound Gallery- Umbra
This is Herb Grimaud Jr.'s third project under The Sound Gallery name. It's a dreamscape of simple and/or complex musical thoughts that can envelop the listener. It helps one to slow down and breathe in life around them. On his own website, Herb says, "I like turning knobs and pushing buttons to see what kind of sounds they will make." It sounds like a child creating and discovering the world around him. He's a talented bassist, with many diverse musical influences, and the ambient stream of life is a way of satisfying the deepest parts of the musical beast within.
full review
Absinthe Blind- Shields
The final Absinthe Blind record is, appropriately, its most complete, and as such Rings acts as a perfect finale for one of the brightest, most eclectic bands to ever emerge from C-U's loaded bench. Drenched in influence from the dark side of the '80s- Absinthe Blind's members are outwardly adamant about their love of Tears For Fears- and a blanket of brilliant sonic manipulation, Rings is a document of the band pushing its staple shoegazing sound to an appropriate crescendo before its exit. Rings simply soars from beginning to end. full review
Handsome- Ride Down
Sometimes it takes years to appreciate a band, sometimes a couple of spins and sometimes... you hear a band and it just clicks. Everything making total sense upon the first listen. Know that feeling? For me, Handsome definitely was a band like that. Oh everyone thinking we're talking about that "Mmmmbop"-band here, get out. Handsome. Not Hanson.
full review