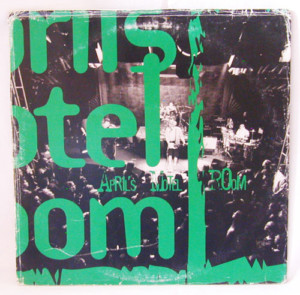 Black 14

Track Listings
1. God
2. California
3. Get Down Jerry
4. Dharma
5. Nickel Bag
6. R.I.P.
7. Riverside
8. Get Her Way
9. Black 14
10. Paper Courage
11. Need
12. Chrysanthemum
13. You/Me
14. La Material





Release Date: (July 12, 1994)
Label: Sony
Producer: Matt Hyde




December Hotel
Overall Rating: ++++

(Get Down Jerry)

Album Review

The band, April's Motel Room, the CD Black 14. The CD was released durring the height of the Alternative

"revolution"

while acts like

Ween

and

The Flaming Lips

took center stage with foolish lyrics and a rehashed overused sound of the day. April's Motel Room must have been deemed, too intelligent, too creative, or not angry enough, because the rational behind the lack of support this CD received is not understandable. From the mass combination of sounds to the splashes of catchy yet intelligent lyrics this CD stands out as a winner.

The major drawback might just be the lyrics as they do have a heavy religious overtone though not necessarily a straight forward meaning. That state what might be the force behind the band and had it been simple anger we'd all of loved it a couple years back but it was just a bit more complicated then accepted at the time. So check out April's Motel Room they just might surprise you or better yet make you stop and think.
April's Motel Room (homepage)
|