S/T
Track Listings
1 Soak the Sin (4:00)
2 Tones of Home (4:26)
3 I Wonder (5:32)
4 Paper Scratcher (3:13)
5 Dear Ol' Dad (3:01)
6 Change (3:41)
7 No Rain (3:37)
8 Deserted (4:20)
9 Sleepyhouse (4:28)
10 Holyman (4:47)
11 Seed to a Tree (3:29)
12 Drive (4:40)
13 Time (6:02)
Discography
For My Friends (2008)
Live At The Palace (2006)
The Best Of Blind Melon (2005)
Nico (1996)
Soup (1995)
Blind Melon (1992)


Release Date: (September 14, 1992)
Label: Capitol
Producer: Rick Parashar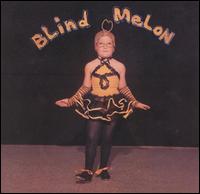 December Hotel
Overall Rating:
++++
(Change)
Album Review

Strangely, I only rediscovered this album a couple of weeks ago, after it had remained dormant at the bottom of one of my many boxes of CD's. I bought it around it's UK release date after seeing the video for "No Rain" on MTV: like most people, who subsequently heard "Change", I was taken in by the light-hearted, vaguely rocky-folky noises and the lilt of Shannon's voice (which I later discovered to be far weaker in a live setting than in a studio).
No doubt, the release of the two semi-acoustic songs on the album was a wonderful marketing ploy by a genial, grey-suited man in an office, but it worked wonders: the drums at the beginning of "Soak the Sin" signaled a bold change from the overplayed singles which had been released, and when I heard the line "What he says to do, is that we don't have to" in the half-tempo passage, I knew that I had discovered something rather remarkable. "Tones of home" starts with that nice jazzy pizzicato guitar, and just makes you happy. "I Wonder", by far and away the best song on the album (and the song which defined the style for Soup) still sends shivers down my spine - just listen to the words of the first verse proper - I, too, would love to daze away... (with his overdose, Shannon later lived his dream.)

Other highlights on the album include "Sleepyhouse", which invokes memories of all great summers, and "Time", which rivals REM's "Find the river" as the greatest end to an album of all time. If you can get past the egotism of "Dear ol' Dad" and manage to recognize "No Rain" for what it is (the single to open doors) then you may find that this album changes your life. Few people in the nineties could write lyrics like Shannon Hoon ('I'm tired of me this way'; 'When you stop dreaming, it's time to die'), and few bands had such a solidified approach without having to be classed in altogether obscure genres. Take my advice - buying this album is a musical investment.

~ Peter