The McGuire Side
Track Listings
1 The McGuire Side (4:50)
2 The Same (4:21)
3 How to Keep a Girl (3:59)
4 Rocking Chair (2:40)
5 Hold Your Head Up (2:22)
6 I Know He's Real (3:14)
7 Joy in the Church (2:30)
8 He Will Provide (3:49)
9 Glorify the Son (4:17)
10 Amazing Grace (How I Love You) (7:58)
Discography
Lovely is Death (2006)
The McGuire Side (2012)

Release Date: (September 10, 2012)
Label: Maple Bar Records
Producer: Gabriel Wilson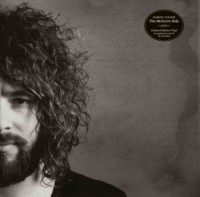 December Hotel
Overall Rating:
++++
(The Same)
Album Review
Gabriel Wilson's latest album, The McGuire Side, is the heart-rending story of how he came to realize and reconcile with his heritage. Wilson's father left him and his mother when he was just a toddler. When his mother remarried, Wilson took his name, but while he liked his new dad, there was a part of him that always felt incomplete.
This is discussed in great detail in the song "The McGuire Side." It wasn't until he was an adult that he discovered his faith-based musical pedigree. When his biological grandfather passed away, Wilson attended his funeral and had an eye-opening revelation...
"It blew my mind to find out that my father's brother – my Uncle Dony – and his wife Reba – were Southern Gospel legends." Wilson said. "My grandfather Cornelius was a traveling minister, singer and songwriter who has had several Southern Gospel groups cover his songs. My Aunt Reba's parents (Buck and Dottie Rambo) are practically Southern Gospel royalty. And here I was, this rock and roll kid up in Oregon with no idea at all where this music in me had come from."

During his journey, Wilson kept a journal, trying to make sense of his thoughts and emotions. It was these entries that, combined with songs written by his biological father and grandfather as many as 50 years ago, came together to form The McGuire Side. Wilson has a distinct Rock-and-Roll feel to his music that is akin to The Rolling Stones, Cheap Trick, and The Who, but every now and then a sliver of country will peak through, which I can only assume is the product of his newly discovered Southern Gospel routs.

The songs "The McGuire Side" and "Rocking Chair" allow listeners to view things through Gabriel Wilson's eyes as a child when his family broke apart and went its separate ways. "How to Keep a Girl" is also told by a young Wilson getting advice from his dad based on past mistakes. In "The McGuire Side," Wilson speaks about the Heavenly Father being the only constant father figure in his life, and how he "was cool with that." So many listeners will be able to relate with the pain and honesty reflected there, all the while resting in God's peace. Wilson is a brilliant storyteller with a guitar, and his experiences may speak to countless people.

The songs of worship clearly have a place and purpose in this album as well. They speak of his joy throughout his journey, but most of all, they speak of the rest and peace Wilson had in his soul through the Lord, even while his emotions may have been in confusing turmoil over his earthly family. "Joy in the Church", "He Will Provide", and "Amazing Grace", reflect this especially.

The McGuire Side is completely different from Wilson's other work, but it is clearly the most honest and raw representation of who he is. It was a privilege to hear his story and feel like I was a part of it while listening to this album.