Big Bam Boom
Track Listings
1 Dance on Your Knees (1:27)
2 Out of Touch (4:22)
3 Method of Modern Love (5:33)
4 Bank on Your Love (4:17)
5 Some Things Are Better Left Unsaid (5:27)
6 Going Thru the Motions (5:39)
7 Cold Dark and Yesterday (4:40)
8 All American Girl (4:28)
9 Possession Obsession (4:40)
10 Out of Touch (12" Version) (7:39)
11 Method of Modern Love (12" Version) (7:50)
12 Possession Obsession (12" Version) (6:31)
13 Dance on Your Knees (12" Version) (6:38)
Discography
Our Kind Of Soul (2004)
Do It For Love (2003)
VH1 Behind The Music (2002)
Marigold Sky (1997)
Change Of Seasons (1990)
Oh Yeah! (1988)
Big Bam Boom (1984)
H20 (1982)
Private Eyes (1981)
Voices (1980)
X-Static (1979)
Along The Red Ledge (1978)


Release Date: (January 01, 1984)
Label: RCA
Producer: Bob Clearmountain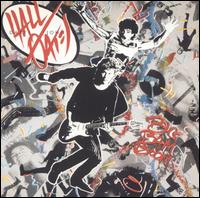 December Hotel
Overall Rating:
++++
(Possession Obsession)
Album Review

"Big Bam Boom" was the last major Hall and Oates album, and this BMG's version improves the sound of the CD from its last reissue in 1996.

While each LP from the duo's Eighties output on RCA used modern technology to some degree, this album put even heavier emphasis on drum machines, keys and sampling. The electronics seems to write the songs, rather than complement them.

On both the regular and remix versions of "Out of Touch," it works brilliantly. Arthur Baker's explosive remix of "Out of Touch" brought the duo back to R&B radio and nightclub loudspeakers in a big way, thanks to the infectious drum track that's even sharper and more danceable than the regular version. Only Neil Kernon's reworking of "Family Man" (available on the "H2O" reissue) outdoes it in the Hall and Oates remix canon.

On "Method of Modern Love" and "Bank On Your Love," the electronics are overkill. The extra swooshes and echoes on "Bank On Your Love" are unnecessary when the work of Hall, Oates, drummer Mickey Curry, lead guitarist G.E. Smith and saxophonist Charlie DeChant are enough to sell the song. (Not drowned out, though, are the basslines of Tom T-Bone Wolk, who helped arrange the album.)

Thank heaven the harmonies of Daryl and John still burst through the production. Hall especially is in fine voice -- note how flexible it is on "Method of Modern Love" (if you can get past the echo effect on the track) and "Going Through the Motions." He balances his natural tenor and falsetto passages neatly.

Beyond the songs themselves, new liner-note interviews by Ken Sharp add a nice touch, as do graphics that blend in with those from the the original 1984 album's inner sleeve (preserved in the lyrics/credits section of this CD).

While up-to-date by the standards of its 1984 release, "Big Bam Boom" may be the most dated-sounding of Hall and Oates' albums. Sadly, on the duo's next two big-label releases (for Arista), Hall's vocal delivery -- a prime selling point of the duo since the early 1970s -- would become somewhat strained and cutesy, The duo's production became more bombastic, and eventually Hall and Oates fell out of favor.

However, having such a timepiece is still a treat for those who remember the period during which H&O were as big (and as good) as it got in American pop.