Carnival, Vol.2: Memoirs of an Immigrant

Track Listings

1 Intro (0:26)
2 Riot (5:15)
3 Sweetest Girl (Dollar Bill) (3:59)
4 Welcome to the East (4:18)
5 Slow Down (5:17)
6 King & Queen (3:23)
7 Fast Car (4:03)
8 What About the Baby (3:36)
9 Hollywood Meets Bollywood (Immigration) (4:53)
10 Any Other Day (4:11)
11 Heaven's in New York (4:47)
12 Selena (4:04)
13 Touch Your Button Carnival Jam: Let Me Touch Your Button/Rouge et Bleu/ (13:29)
14 Outro (0:22)

Discography
Carnival, Vol.2: Memoirs of an Immigrant (2007)
Welcome to Haiti: Creolo 101 (2004)
Greatest Hits (2003)
The Preacher's Son (2003)
Masquerade (2002)
Ecleftic: 2 Sides II a Book (2000)
Presents the Carnival Featuring the Refugee Allstars (1997)

Release Date: (December 04, 2007)
Label: Sony
Producer: Wyclef Jean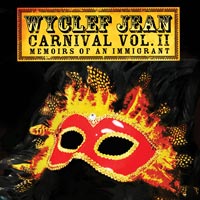 December Hotel
Overall Rating: ++++
(Fast Car)
Album Review
Wyclef Jean definitely caught the public off guard with the release of "Carnival Vol. II." It's been ten years now since the release of "The Carnival," an album upon which opinion has always been widely divided. Opinion was not divided when it came to The Fugees, where Lauryn Hill was always considered to be the breakout star, while Pras was considered to be lyrical weak link. Wyclef fell somewhere between the two - a charismatic and engaging personality who at times seemed to have trouble finding or staying on beat with his flow. While former RR reviewers like Dan Mannella felt that 'Clef may have overcompensated musically for his shortcomings lyrically on his first solo album, even Mr. Mannella acknowledged that "The Carnival" remains the most popular album in Wyclef's extensive catalogue. Wyclef has struggled since then to find a mainstream audience, acknowledging that he's an Ecleftic artist who can't be pinned down to any one style, yet "The Carnival" somehow managed to to seamlessly blend them all - the crooning of "Gone Till November," the hispanic soul of "Guantanamera," and the hardcore hip-hop swagger of "Bubblegoose."
In this writer's opinion though Wyclef has on the low been one of rap's best kept secrets. While he hasn't had a gold or platinum album since 2000, releases like "The Preacher's Son solidified his flow and rhyme-writing ability lyrically while steadily drawing from a broad diaspora of African music to craft his sound. It's rather remarkable the amount of effort that 'Clef puts into an album, considering he's just as responsible for the beats as the rhymes, relying on close friend Jerry 'Wonder' Duplessis to perfect songs that range from reggae to soul to rock'n'roll. "Carnival Vol. II" is no exception to this rule, and if anything Wyclef has broadened his range of musical influences even further. On the opening track "Riot" alternative and reggae make a great soundclash, as Serj Tankian from System of a Down joins Sizzla and 'Clef to bust it down before the final countdown because "the world is getting nervous." "King & Queen" has an energetic tempo for Wyclef's verses, even though he's flowing slow, and shifts down when Shakira croons the chorus - completely fucking up your musical expectations in a pleasant way. Not every hip-hop artist would get down with Paul Simon, but Wyclef makes it work on "Fast Car." This doesn't sound any more or less out of place than 'Clef busting flows with Southern rap impresario Chamillionaire on the Indian influenced "Hollywood Meets Bollywood." Wyclef may be the most musically maleable artist in all of hip-hop, and that's meant ENTIRELY as a compliment. From "Selena" with Melissa Jiminez to "Sweetest Girl" with Akon and Lil Wayne, everything fits together perfectly.
Those who have disrespected Wyclef as a lyricist up until now, the time has long since come to recognize he's more than competent on the mic. Those who have disrespected Wyclef as a producer up until now, the time has long since come to recognize his musical skills are up to par with any big name hip-hop hitmaker from Just Blaze to Kanye West. Those who have slept on Wyclef Jean's catalogue may need to give it another look after listening to "Carnival Vol. II." Go back to "The Carnival" and work your way forward and you'll find that Wyclef Jean was quiet as kept making some of the best hip-hop music out there, simply because he refuses to limit himself to one style or sound, embodying the broadest sense of possibility as to what hip-hop music can be much like the now celebrated early 1980's pioneers of rap. Fifty years from now scholars will be discussing Afrika Bambaataa and Wyclef Jean in the same sentence.