Saturday, April 05, 2008
Weddings (reminder of it all)
Today I have the lucky privilege of being invited to a wedding. Why is it that whenever you mention the word wedding, women seem to always get a smile on their face. I?m just a typical guy born and raised in a conservative Caucasian family. And let me tell you when I hear the word, I don't smile. Not because I don't like weddings. Even though I do think they are overrated. I'm not sure why I don't smile. Maybe it's the fact that I'm 33 single and have no wedding plans insight. In fact I don't even have a girlfriend in sight. At this point in time, I have just about decided to completely give up on finding that right person for me. It's such an endless struggle. Just about everyone I known says I'm too picky. But I don't think that's the case. Maybe I'm just way too cautious. I have seen a lot of divorce all around me. And I'm really afraid of being just another divorce statistic. So I want to make sure the person I chose to spend the rest of my life with is the right girl for me.

Maybe I don't really like weddings because they are a reminder of the fact that I am still single. I always kind of had my future mapped out in my head and I'm not at that very place in time, I thought I would be right now. By now I always thought I would be married and have a couple of kids. Now I'm to the point where I don't even know if I want kids anymore. I guess it's not that I don't like weddings. Because I usually have a good time at them. It must be, I don't like the reminder of where I'm not at in my life. So one wedding today and one in a few weeks. May the wedding couples be blessed with marriage bliss. I hope they both end up with the story book wedding. Women always dream of. And cheers to myself, may I find much to smile about know matter what those weddings may remind me of.
Tuesday, March 25, 2008
Jericho Is No More.....
On March 21, 2008 CBS announced that the network would not be renewing Jericho for a third season. The final episode will air tonight. Lackluster ratings prompted CBS to cancel the show for a second time. This really frustrates me I don't watch much TV. And this is easily one of my favorite shows. And one of the best in my opinion.
CBS tried to cancel the show last year. But a small rabid grassroots fan base. Spoke out and put an end to that. Unfortunately they axed it again. I'm hoping people will email CBS again voicing their disgust at the fading primetime network. They are so desperate for ratings they are airing an edited version of the Showtime hit Dexter. If were lucky some other network will pick up the show.
- here's a short clip on what you have been missing.

Posted by December Hotel at 11:39 PM 0 comments
Monday, March 10, 2008
It's been almost a full year since the death of Captain America. His stance against Iron Man in the Civil War eventually led to his murder on the steps of the court house. The image of Cap lying on the court house steps should resonate with everyone, but you'll have a wide variety of opinions of what that image means. What it means to some is intense patriotism, or a dishonest ideal, maybe lack of interest, or they might see him as
"The Man."
It could be so many things. For me it's the death of a dream.
The American Dream
so to speak. Growing up Cap was my favorite super hero. He was the one I could most relate too. Unfortunately Cap fought his last battle in court. And look where it got him.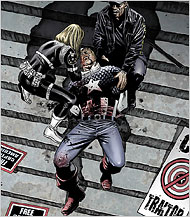 The death of Captain America can be viewed as a visible symbol representing the death of civil liberties here in America. That's the way I seem to see it. Some would like to believe he was killed off because morals, manners, truth and goodness. Are all of which a almost like a disease that people are trying to avoid. What better way to completely kill true decent living than to kill a super hero who possessed those very qualities. It's kind of ironic that Captain America the ultimate patriot and comic book symbol of freedom should die during the
Bush Administration
. Some will truly look back on these days as the death of America. And rightfully so, I guess.
We need CAPTAIN AMERICA now more than ever. We miss you my friend:(
For more on the late Cap, who's been a hero since World War II,
go to his official biography here
.