Saturday, January 23, 2010
Free Sarah Kruzan
Sara Kruzan, now 31. She was raised in Riverside by her abusive, drug-addicted mother. Sara met her father only three times in her life because he was in prison.

Since the age of 9, Sara suffered from severe depression for which she was hospitalized several times. At the age of 11, she met a 31-year-old man named G.G. who molested her and began grooming her to become a prostitute. At age 13, she began working as a child prostitute for G.G. and was repeatedly molested by him. At age 16, Sara was convicted of killing him. She was sentenced to prison for the rest of her life despite her background and a finding by the California Youth Authority that she was amendable to treatment offered in the juvenile system. Life without parole means absolutely no opportunity for release, said Senator Yee (of California). It also means minors are often left without access to programs and rehabilitative services while in prison. This sentence was created for the worst of criminals that have no possibility of reform and it is not a humane way to handle children. While the crimes they committed caused undeniable suffering, these youth offenders are not the worst of the worst.
Posted by December Hotel at 3:48 PM 0 comments
Friday, January 15, 2010
Seven Theory, End Of Times Prophecy
I do not take credit for this video. I am using to help reach out to more people. God is coming back soon to get his people and it very important that we be ready for his return. Let's get the message out to more people...
Thursday, January 14, 2010
Confident, that I just saw a good movie
I'm one of those people that love to discover music and movies that haven't been force fed to me by mainstream media. Recently I discovered a movie called Confidence. Thanks to my friend Maria, who insisted I needed to see it. I took the movie she forced upon me. After a few days I decided to pop it in and give it in and give it a chance.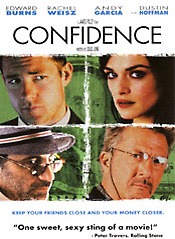 The movie, starring Edward Burns is basically about a few con-men trying to pull a fast one on some crooks. They are looking for that one last con that will put them over the top. For the most part the acting through out the movie is pretty darn good. I would have to say Andy Garcia gives the best performance.