Monday, May 11, 2009
Why I Believe In The Nuggets.....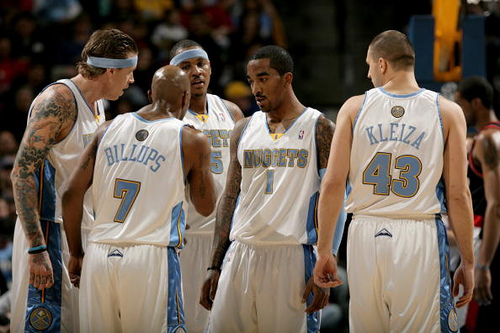 I have had the privilege of watching a few of the nuggets playoff games in person this season. There is an excitement surrounding this team that I haven't seen since 94'. And it grows with each passing day. Last night I watched the game with my work buddy Valera. Unfortunately he had to leave right before Carmelo hit the controversial game winner. I jumped up with great joy after he hit that shot. It was a bummer to have no one to share the moment with. It was the 2nd greatest moment in Nuggets history behind the Mutumbo celebration after upsetting the #1 seeded Seattle Supersonics in 94.'
I am a Colorado native. I can remember watching the Nuggets when I was a kid seeing the likes of
Alex English
,
Fat Lever
,
Calvin Natt
, defensive standouts
TR Dunn
and
Bill Hanzlik
. Those were exciting teams to watch. Always scoring a ton of points. But never coming close to winning an NBA title. Too much offense and not enough defense. Despite their short comings much like recent years they were still plenty of winning seasons to enjoy.
The 90's were quite a letdown in Nugget history. Nearly setting the record for fewest wins in a season. They would tie the NBA's all-time worst single-season losing streak at 23 games only one game shy of the overall worst mark of 24 by the Cleveland Cavaliers of the early 1980s. Home town favorites
Michael Adams
(one of my all-time favorites)
Chris Jackson
,
Dikembe Mutumbo
and
LaPhonso Ellis
were among the few bright spots of those years. The only year really worth remembering was the great 94' season where we finished 42-40, upsetting the #1 seeded Seattle Supersonics and taking the Utah Jazz to a game 7 before losing.
All that finally brings us to present day. Hometown hero
Chauncey Billups
showed up on our door step, a gift from God. And of coarse we embraced him. His leadership has led the way to our remarkable rise in the west. I must not leave out the once exiled
Chris "the birdman" Andersen
. For his energy has given this city a new pride and joy. On the eve of a possible sweep, I am here to present why I think the Nuggets are going to win Colorado its first NBA title.
Carmelo has been a monster in the playoffs doing everything we need him to. If the Nuggets don't have Carmelo, they are not the Nuggets. That s how much he means to this team. Then there is Chauncey Billups, he is the clutch player the Nuggets needed. He is the coach on the floor that the Nuggets have been missing all this time. Chauncey is here to save the day. The Denver Nuggets have a great defense. That is something that no one has been able to say since I have been alive. They are in the top 3 in almost all defensive categories during this Playoff run. They have also given up an average of 83 points a game (giving up the third-fewest points in NBA Playoff history against the Hornets). While scoring an average of 109 points a game. Before this
last game the Nuggets were averaging 50% on their 3 point attempts. Which ranks first among all playoff teams. They are also pretty much leading all teams in rebounding excluding all the extra quarters of play the Celtics had last series. They quite frankly have the best 6th man in basketball wildcard J.R. Smith, who isn't afraid to take any shot no matter how ridiculous it might be. They are probably the most balanced team in the playoffs. Their back court is SOLID and their front court can and will out-rebound every team they come across. They probably have the best bench of all the remaining teams. Their is no better team at closing out games then the Nuggets. Once they get a double digit lead forget about it game over.
Quite frankly no team will get in there way. The Lakers are looking vulnerable after tonight s loss. Houston is proving that great defense can stop the Lakers and defense is something the nuggets have. As impressive as the Cavs have looked. They don't possess the scoring threats the Nuggets have nor do they play the stiff competition the Western conference presents. Sure they possess what I believe to be the best player in the league. But he can't do it alone. His supporting cast isn't as good as the Nuggets supporting cast.

So there you have it, that is my argument. Biased maybe, but sometimes you have to recognize a team of destiny. And I think I have done just that. Wrong I might be, but either way it's gonna be a very interesting May and June to say the least. Here's to hoping Chauncey and the boys deliver Colorado their first NBA championship.

Wednesday, March 16, 2009
The Living Years.....
This weekend my cousin Michael is coming into town from Missouri. I haven't seen him since last summer. There is something about spending time with family I don't see very often, that takes me back to my childhood. And also consumes me with thoughts about
my own mortality. Michael's parents have passed on. My Father has passed on. It's always weird for me to think we are all gonna die someday. It kind of sucks, having to get old and watch the ones you love die. Don't get me wrong I enjoy life. But hate the idea of seeing loved one after loved one pass on. As much as I love my life now. I often think about the past and miss those days. I miss the many relationships I took for granted and are now gone. So I guess I just need to keep on living for today and make the most out of today's present relationships.